Day 1 Istanbul | Welcome
You will be met by your guide at the Istanbul International Airport (IST) and transferred to your hotel. After checking into your hotel, you will have some time to relax and explore. Tonight, we will have a welcome dinner. (Dinner)
Dinner and Overnight in Istanbul

Day 2 Istanbul | Hippodrome, Hagia Sophia, Blue Mosque, Topkapi Palace, Grand Bazaar
After breakfast, your guide will meet you at the hotel lobby for your full-day tour of Old City Istanbul. Following a short drive across the Galata Bridge, we will drop off at the heart of the old city, walk the historic streets of Istanbul. First, we will visit the Hippodrome; the central square that was once used as a horse racing arena during the Roman and Byzantine times. Next, we will visit Hagia Sophia, one of the greatest marvels of Byzantine architecture built by Justinian, the once biggest dome in the world, with its grand pillars from Ephesus. Afterwards, the tour will continue with the Blue Mosque (Sultanahmet Camii), famous with its blue Iznik porcelain tiles and unique with 6 minarets. The day will continue with a visit to the Topkapi Palace, a huge walled complex hugging the Bosporus, the former palace of the Ottoman Sultans that is now a museum with an extraordinary collection of Chinese porcelain, art, artifacts and jewels including the Topkapi Diamond, and relics from the Prophet Mohammed. Following Lunch at a local restaurant, we will head towards the Grand Bazaar, the largest and the oldest covered market place in the world with more than 4,000 shops in the labyrinth of streets. En-joy the colorful array of shops that offer an endless selection of goods that includes jewelry, fabrics, spices and local handicrafts. After all the visits, you will be transferred to your Hotel. (Breakfast, Lunch, Dinner)
Dinner and Overnight in Istanbul

Day 3 Izmir | Smyrna, Pergamon, Asclepion
Early in the morning, we will transfer you from your hotel to catch the morning flight to Izmir Airport. Upon arrival to Izmir, we first travel north to Pergamon (Pergamum). We will see the famed library, the terrace of the spectacularly sited hillside theater, the main palace, and the Altar of Zeus. This altar was hence mentioned in the Bible, referred to as "the throne of Satan", but the city was praised for its martyrdom and perseverance, all the while those who held false teachings were criticized. (Rev. 2:12-17) Asclepion (also spelled Asclepium), the birthplace of Galen, was a center of medicine in the ancient world; the teachings of which have dominated Europe from 2nd Century AD up until Renaissance. After returning to Izmir, we will tour the city of ancient Smyrna, the second of the Seven Churches of Revelation. Smyrna's message speaks of false Jews and impending persecution, but encourages perseverance which will be rewarded. (Rev. 2:8-11) After the tours, we will check-in at our hotel and overnight stay in Izmir. (Breakfast, Lunch, Dinner)
Dinner and Overnight in Izmir

Day 4 Pamukkale | Sardis, Philadelphia
After breakfast at the hotel, we will move out to Sardis, the capital of the ancient state of Lydia. The most important architectural works that were discovered in the city were the ancient Roman Synagogue and the Gymnasium. However, the city is most famous for it being one of the Seven Churches of Revelation; the church of Sardis is described as dead, and it must wake up. However, there are some who have not "soiled their clothes." (Rev. 3:1-6) From there, we will move onto Philadelphia, another of the Christian Congregations; Philadelphia is praised for having little strength but still persevering. Those who falsely claim to be Jews, but are actually of the "synagogue of Satan," will be judged. (Rev. 3:7-13) After the tour, we will drive towards Pamukkale and check-in at our hotel. (Breakfast, Lunch, Dinner)
Dinner and Overnight in Pamukkale

Day 5 Kusadasi | Pamukkale, Hierapolis, Laodicea, Ephesus, House of Virgin Mary
After breakfast at the hotel, we move out to visit Pamukkale, which means cotton castle, has been formed over time by the natural hot springs, rich in calcium and carbonate, that flow down the slope. We will also visit the ancient Roman Health Spa of Hierapolis, made most famous for it is thermal springs, theatre, Agora and the Necropolis. Afterwards, we move onto Laodicea, another one of the Seven Churches of Revelation; the church of Laodicea is sharply criticized for being lukewarm in the Book of Revelations. Its wealth hides its spiritual poverty. (Rev. 3:14-20) From there, we will move onto one of the world's finest examples of an ancient classical city, Ephesus, which was once the most important and prominent city in Asia Minor, predating even Constantinople. It housed the Temple of Artemis (Diana), the site of one of the Seven Wonders of the Ancient World, and also the House of Virgin Mary, probably where She spent the latter years of Her life. The city is one of the Seven Churches of Revelation, receiving praise for its perseverance, but criticism for forsaking its "first love". (Rev. 2:1-7) After the tour, we will return to Kusadasi. (Breakfast, Lunch, Dinner)
Dinner and Overnight in Kusadasi

Day 6 Izmir - Departure | Departure
We will pick you up from your hotel in the morning after your breakfast at the hotel. You will then be transferred to the Izmir Airport for your flight to Istanbul Ataturk Airport, from where you will catch your connecting homebound flight. (Breakfast)


PLEASE NOTE! We reserve the right to omit any site and/or change the itinerary
Should it be necessary due to local conditions.


DAY BY DAY ITINERARY
Seven Churches of Revelation
TURKEY PRE / POST ISRAEL TOUR EXTENSION OPTION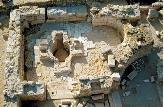 We look forward to making your Israel

tour

a memorable and "life changing" experience!